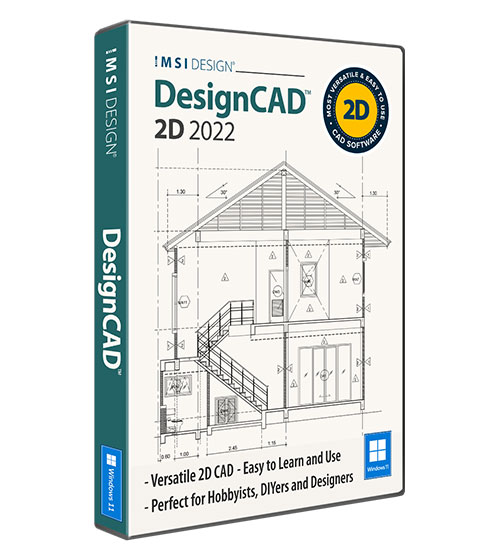 DesignCAD 2D Express 2022
Product Info
Easy, Versatile 2D CAD Solution

DesignCAD is an easy-to-learn and use 2D CAD program. Access hundreds of 2D drafting and design tools through an intuitive interface to quickly and easily produce accurately scaled, precision designs. It's perfect for architectural drawings, engineering layouts, and more.



EASY TO USE 2D DRAFTING & DESIGN

SMART MENUS

LAYERS

ASSOCIATIVE DIMENSIONS

ADDED FLEXIBILITY WHEN SHARING YOUR WORK

AUTOCAD® DWG/DXF COMPATIBLE
Pre-defined Views
9 different pre-defined views have been added to the DesignCAD 2022 version, that can be applied on the drawing window. Those 9 views are: Front View, Top View, Bottom View, Right View, Left View, Perspective View, Isometric View, Parallel View, and Trimetric View.Option to select pre-defined views is added in View tab inside Classic and Ribbon Menu.
"I've used a couple of different apps for CAD and I am very surprised at how much DesignCAD 3D can do and still be easy to use as it is."
Roger B.
"I have used DesignCAD since version 12 for furniture design. Mostly 2D. Each version upgrade has offered greater value."
Brian F.
"Have been using DesignCAD since the DOS versions and it just keeps getting better and more powerful every year. Dollar-for-dollar, it's the best CAD software available anywhere."
Neal S.
"Still a great program - Been using it since version 12. Easy to learn if you are just learning CAD drawing. I have been using DesignCAD to draw technical drawings for survey mapping in archaeology because it has but has lots of easy to use features. "
Tom A.
I am just starting out with using a CAD program. So far, I am learning the functions and little tricks that are needed to be efficient. I believe this to be a good product for those who want to draw fairly technical documents, and it is very powerful.
John G.
"I have used DesignCAD for close to twenty years, and it is a simple, dependable software. Over the years it has added features and improved its overall performance noticeably in the area of exporting/importing other drawing formats."
John C.
"Simple and stable. Have been using for years. Consider it my second language after English. Does everything I need for 2D drafting, never locks up or crashes, even in Windows. "
Lowell S.
"Our company designs and fabricates furniture and cabinetry for both private and commercial customers. We have the original version off DesignCAD, liked revision capability, so added the newer version."
Don S.
"The program is very useful for almost anyone. I have been using it for a few years now and am just now trying to learn the 3-D portion. Excellent tool."
Mike E.
"Great product for the price! Bought it for home after using it at work for many years. Well done creators. Great, easy to use product. No bull sh#@ and very fast to get small to medium shop drawings out. Allows me to show normal people the ideas in my head quickly and easily. Love it!!"
Mick L.
"I have used DesignCAD for civil engineering designs (buildings, subdivisions, roadways) since first purchasing a DOS version in the early 1990's. DesignCAD is fantastic. I have never come across a drafting project that I could not complete easily in DesignCAD."
Dennis M.
"I am very impressed with the software. I am not a drawing professional but I easily imported AutoCAD files and made the modifications and prints I needed. It seems that all the tools needed by a professional are available. Definitely a 5 Star, I strongly recommend this software."
Roger L.
"This is an inexpensive 2d drafting program. We bought it when we had a hardware issue that was keeping us from getting VisionRez working or the license transferred, but a small job was due. We sorta freaked and bought this, hoping we could use it to draw & get the pool house job out on time while I got the other problems taken care of."
Gardencat.
"The actual software is not that hard if you have autocad or CAD experience, though the interface is different, so even WITH a strong CAD background, expect a learning curve. It would just take time. . They do offer training but that costs more than the software, and looked to take a bigger chunk of time than we wanted to spend."
Gardencat.
"Great for begginers."
Dale Gibb.
"For the money, a very inclusive package, really can't see anything you couldn't create with this."
Chipp s. .
"I haven't figured out how to use it yet, but it's a nice item if you know cad"
Chuck .
"Pretty good basic CAD program. Originally purchased this because a customer sent me a file that they had created with this program. It must have been a much earlier version since I could not open the files. I am still glad that I bought it since I do need to be able to draw and print basic prints."
R.E
"it is a good drawing program if you have experience with AutoCAD. Taking me awhile to get use to it. I have forgotten most of the things on AutoCAD."
KLR handyman
"Great product and a great vendor"
Timothy S
DesignCAD 2D Express is delivered in a 64-bit version to take full advantage of your hardware's available computer memory to load, process, and render CAD files. A 32-bit version is also available if required by your hardware.
 64-bit System Requirements:
Microsoft Windows 11, Windows 10, Windows 8* 64-bit, Windows 7 (64-bit), 4GB RAM; 750 MB free hard drive space
32-bit System Requirements:
Microsoft Windows 10, Windows 8*, Windows 7, 4GB RAM; 750 MB free hard drive space
*DesignCAD is designed for desktops or laptops that meet the indicated system requirements. Windows RT technology for use on tablets is not supported.
Recommended:
Your experience with DesignCAD will be greatly enhanced with a newer generation, higher speed CPU; 4+ GB RAM; Large display resolution and graphics support; Internet connection for online features and content.
Buy Your DesignCAD Product Now
Find the DesignCAD ersion that best fits your needs
2D Drawing, Editing & Modifying
AutoCAD® (DXF, DWG & DWF) File Compatibility
Architectural Tools
2D & 3D Symbols
3D Modeling & Editing
OpenGL & Hidden Line Rendering
3D Printing Support
Animation & Walkthroughs
Accelerated Drawing Performance - via Redway RedSDK
2D Drawing, Editing & Modifying
AutoCAD® (DXF, DWG & DWF) File Compatibility
Architectural Tools
2D Symbols
-
-
-
-
-
Edit Page