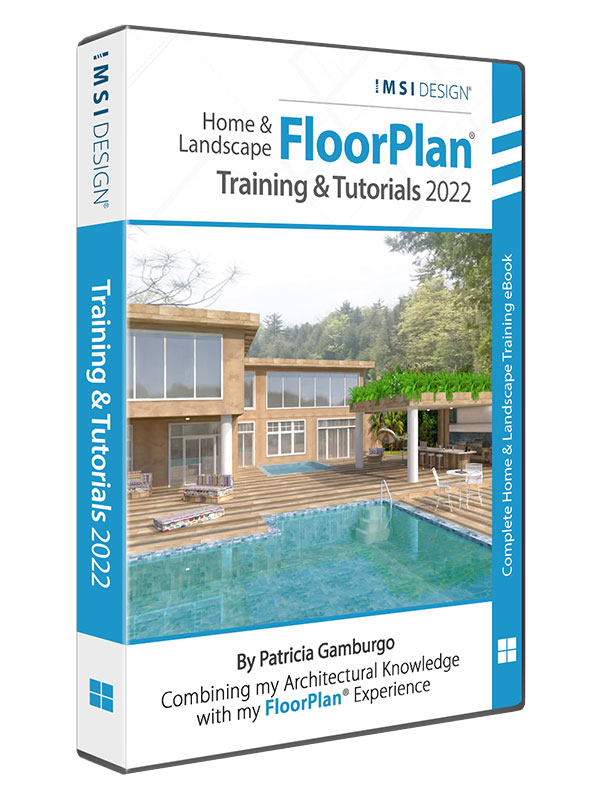 FloorPlan® 2022: Training & Tutorials - Windows Version - by Patricia Gamburgo
Product Info
Boost Your Knowledge and Skills

Order this flexible learning eBook written by Patricia Gamburgo, a professional architect and FloorPlan expert, to go with your FloorPlan software. This training is appropriate for FloorPlan Home and Landscape Pro, Deluxe and Instant Architect.



A new eBook dedicated to the latest FloorPlan Software Version 2022 for Windows.

Contains more than 540 pages and more than 1500 color images showing the new features, tutorials, screen guides, tables, examples, rendering results and screenshots as well as updates, covering all the new FloorPlan Software Version 22 for Windows. Topics and tools are linked on the screen using more than 2000 hyperlinks.

Introducing Punchhelpers Buddy, a new helping resource

Learn the programs and all the new tools: new rendering techniques and 3D effects, lighting features, sheet layout, rails (decks and stairs), importing and exporting files, and more!
1-Click Room Additions
Automatic & Custom Roof Tools
1000+ 3D Interior Design Furnishings & Materials
Over 4000 Plants for Landscape Design
Advanced Floor Management
Foundation & HVAC Planning Tools
Framing
Import Materials, Backgrounds &Plants
Fence Designer
Global Sun Positioning
Advanced Dimensioning Tools
Interior Decorator Palette
1-Click Room Additions
Automatic & Custom Roof Tools
1000+ 3D Interior Design Furnishings & Materials
Over 4000 Plants for Landscape Design
Advanced Floor Management
Foundation & HVAC Planning Tools
Framing
Import Materials, Backgrounds &Plants
-
-
-
-
Edit Page