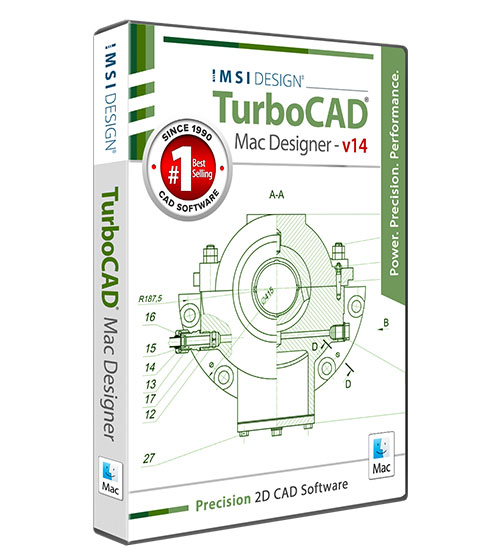 TurboCAD Mac v14 Designer 2D
Product Info
TurboCAD®Mac Designer 2D delivers easy to use 2D drafting and design tools typically found in professional level CAD programs, but at an entry level price. You will be able to produce professional looking computer drawings, floor plans, landscape designs, diagrams, production ready schematics, and more.

Complete Set of 2D Drafting Tools

500 Floor Plans

Over 7,000 2D symbols and parts

Layers and Layer Sets

Architectural Design Tools

Updated BOM Dialog
BOM Fraction Measurements
The Bill of Material Create BOM feature has a new option to support fraction measurements. To use this feature, select the Attributes and BOM dialog box from the Tools menu. Select your objects and associated a data set such as CutList properties. Apply to selected. Now select the Create BOM option to create a table. In the BOM Settings dialog box, select the Decimals pull down option. And then Select Fractions to display measurements as factions of feet and inches.
ACIS Modeling Engine Update
The core modeling kernel was updated to support a newer version from Spatial.  The new update provides greater increases in quality and robustness and improvements in modeling tasks such as booleans, blending, chamfering, sweeps, skinning, healing, and faceting functionality.
TurboCAD Mac Designer Reviews
"I use 2D modeling for drafting related to model ship building, and TurboCAD Mac Designer does everything I need."
Frank M.
"Very good CAD program!! I do mostly electric schematics and this program works well for that."
David W.
"I used to use AutoCAD LTE, but just do a few simple projects from time to time now, and TurboCAD Mac Designer handles them perfectly."
Eric R.
"Very good, very affordable 2D CAD program that works like a CAD program. Superior to most more expensive 'drawing' programs which may have stupid user interfaces."
Anton Z.
"Really like it. This is perfect for my occasional and simple CAD design needs, at a fantastic price. I was an AutoCAD user, but don't need anything that expensive now."
Eric R.
System Requirements
Macintosh® OS 10.11 through 13.0 or higher¹, x64 Intel® Mac®, 3 GB of hard disk space, 8 GB RAM or greater, Mouse Pointing Device (wheel button recommended), OpenGL Compliant video card with 256 MB VRAM, ¹ Program compatibility is not guaranteed for earlier operating systems, require a machine with an operating system using x64 (64-Bit) architecture.
Buy Your TurboCAD Product Now
Find the TurboCAD Mac version that best fits your needs
2D Drawing, Editing & Modifying
AutoCAD® (DXF, DWG & DWF) File Compatibility
3D Solid & Surface Modeling and Editing
Architectural Tools
Photorealistic Rendering
3D Printing Support
2D/3D Part Library
Multi-Threaded Support
ACIS® Solid Modeling
Advanced Drafting - GD&T, Mark-Up & Redlining
Feature-Based/History Tree
TurboCAD Mac Deluxe
$

22999
2D Drawing, Editing & Modifying
AutoCAD® (DXF, DWG & DWF) File Compatibility
3D Solid & Surface Modeling & Editing
Architectural Tools
Photorealistic Rendering
3D Printing Support
2D/3D Part Library
-
-
-
-
TurboCAD Mac Designer
$

6999
2D Drawing, Editing & Modifying
AutoCAD® (DXF, DWG & DWF) File Compatibility
-
Architectural Tools (Limited)
-
-
-
-
-
-
-
Edit Page