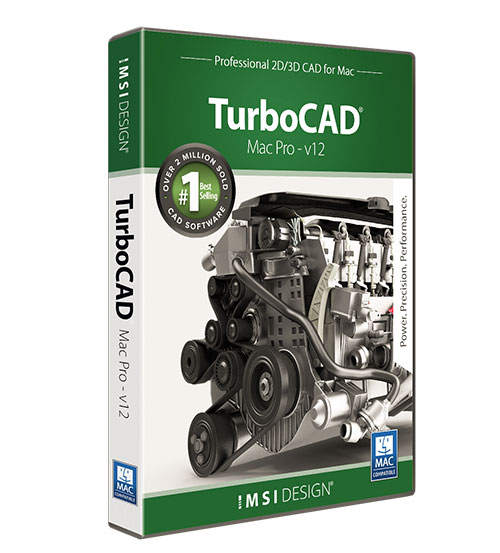 Product Info
Professional 2D/3D Design & Rendering

TurboCAD Mac® Pro is a comprehensive 2D/3D CAD solution that will meet the precision drafting and modeling needs of architects, builders, mechanical engineers, woodworkers, and other design professionals. Our powerful CAD software will speed up your productivity and get your design projects across the finish line.



ACIS®-Based Solid Modeling

Advanced 3D Modeling Tools

Feature-Based/History Tree

Model to Sheet

Photorealistic Rendering with HDRI Support

File Import & Export Support
"As a user of professional CAD systems for my day job, TurboCAD for Mac is the best low cost CAD you can get for Mac."
Dan
"LOVE IT!! I moved up to TurboCAD Mac Pro last year and recently moved up to v10. All I can say is AWESOME. Great user interface and great price."
Boomer S.
"I review TurboCAD Mac Pro v10 along with another CAD package and I created a 2D drawing and 3D Model with TurboCAD before I could figure out how the other worked... and I've been a drafter for 38 years."
David J.
"When you know TurboCAD, you have most freedom than other program."
Santiago V.
System Requirements
Apple Mac® OS X 10.8 (Mountain Lion), 10.9 (Mavericks), 10.10 (Yosemite), 10.11(El Capitan), and 10.12 (Sierra) Intel® Mac®, 8 GB of hard disk space, 4 GB RAM or greater, Mouse Pointing Device (wheel button recommended). Compatibility not guaranteed for older operating systems.
TurboCAD Mac supports Apple's 64-bit architecture. The result is smoother workflow, faster drawing display and manipulation, and the ability to work with parts and models of nearly any size. If your Mac does not use the 64-bit kernel required to support the 64-bit version of TurboCAD Mac, there is also a 32-bit version available.

TurboCAD Mac Pro v10 does support OSX 10.13 (High Sierra) but a separate patch must be obtained from IMSI Design. For the patch please contact us at [email protected]
Buy Your TurboCAD Product Now
Find the TurboCAD Mac version that best fits your needs
2D Drawing, Editing & Modifying
AutoCAD® (DXF, DWG & DWF) File Compatibility
3D Solid & Surface Modeling & Editing
Architectural Tools
Photorealistic Rendering & Ray Tracing
3D Printing Support
2D/3D Part Library
Multi-Threaded Support
ACIS® Solid Modeling
Advanced Drafting - GD&T, Mark-Up & Redlining
Feature-Based/History Tree
TurboCAD Mac Deluxe
$

22999
2D Drawing, Editing & Modifying
AutoCAD® (DXF, DWG & DWF) File Compatibility
3D Solid & Surface Modeling & Editing
Architectural Tools
Photorealistic Rendering
3D Printing Support
2D/3D Part Library
-
-
-
-
TurboCAD Mac Designer
$

6999
2D Drawing, Editing & Modifying
AutoCAD® (DXF, DWG & DWF) File Compatibility
-
Architectural Tools (Limited)
-
-
-
-
-
-
-
Edit Page