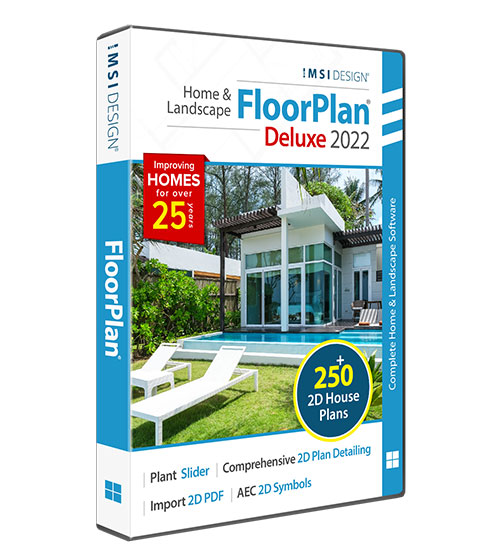 FloorPlan 2022 Home & Landscape Deluxe
Product Info
Complete Home & Landscape Design for Windows Desktop.
FloorPlan Home & Landscape Deluxe 2022 is a complete, easy-to-use home and landscape design solution for Windows Desktops. No experience required! Simply drag and drop and TurboFloorPlan does the work for you so you can focus on the final design.

Flexible Home Design Tools

Over 4000 Plants in Plant Library

100+ Video Guides About Product Features

Sample Home Designs

Growth Tool - See Your Plants Grow Over Time

Automatic & Custom Roof Tools
Find Feature videos added to each feature individually to walk you through to a better user experience.
Enhanced Deck, Railing and Stair Options
Improved control over deck construction methods. Can now specify fascia height on decks, post width and height. Option to set individual deck posts as support post that extend to ground. Set post height for staircases and continuous hand rail flush over posts. It also includes additional material application options.
"Does what it says, the program works perfect. Learning it depends very much on the time spend but allows very much room for intuition. In other words I was operational and got results within two days."
Reinhold G.
"Great piece of kit, does what it says on the box. It is easy to use with great walk-through videos to get you started a novice can be made to look like a professional."
Kenneth M.
"Great software! I have been searching for an easy to use, yet professional-looking floor plan software program for years now. I had tried most of the free options, but I was not happy with them. TurboFloorPlan is great & just what I needed."
Jane Z.
System Requirements
Operating System: Microsoft Windows® - Windows 11, Windows 10, Windows 8, Windows 7, or Windows Vista
CPU Type: 1 gigahertz (GHz) or faster 32-bit (x86) or 64-bit (x64) Intel® Pentium® III, Celeron® or other compatible processor (multi-core processors supported)
Memory: 1 GB of RAM (4 GB or more recommended)
Hard Disk Space:3 GB
Video Card: VGA Video Card displaying at least 1024x768 with 32-bit color.
Video Card Memory: 64 MB. Note that a separate video card is required. Motherboard video chipsets AKA onboard video chipset AKA integrated video is not supported.
Other: DVD-ROM (if installing from disk), keyboard, and mouse. Internet access for product activation. Administrator privileges are required to properly install this program.
Buy Your FloorPlan Product Now
Find the FloorPlan 3D version that best fits your needs
Click Room Additions
Automatic & Custom Roof Tools
1000+ 3D Interior Design Furnishings & Materials
Over 4000 Plants for Landscape Design
Advanced Floor Management
Foundation & HVAC Planning Tools
Framing
Import Materials, Backgrounds & Plants
-
-
-
-
Click Room Additions
Automatic & Custom Roof Tools
1000+ 3D Interior Design Furnishings & Materials
Over 4000 Plants for Landscape Design
Advanced Floor Management
Foundation & HVAC Planning Tools
Framing
Import Materials, Backgrounds & Plants
Fence Designer
Global Sun Positioning
Advanced Dimensioning Tools
Interior Decorator Palette
FloorPlan Instant Architect
$

4999
New 2D Design Engine
NEW DWG/DXF Import/Export
Advanced Floor Management
Instant 3D Views
Over 4670+ 3D Furnishings Included
Over 7640+ Materials
Accessories / Window Treatments
Over 4000+ Plants
Library Navigation and Preview Control
Download Packs for 3D Objects, textures and more
Point Selection Highlight Guides
Multiple Monitor Support
Edit Page