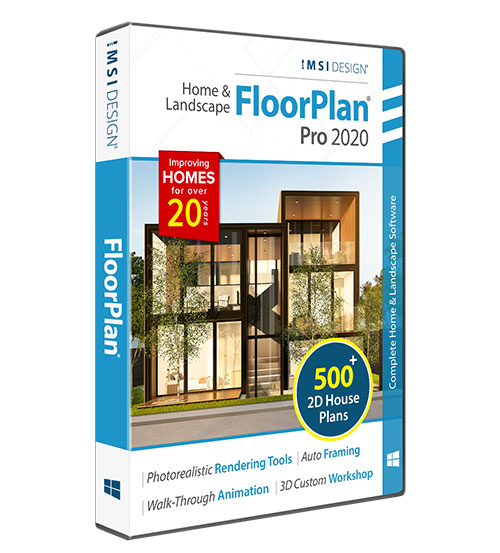 FloorPlan 2020 Home & Landscape Pro with Lightworks
Product Info
Powerful Home & Landscape Design for Windows Desktop.

FloorPlan Home & Landscape Pro 2020 is a powerful, professional home and landscape design solution for Windows Desktops. With no experience required, simply drag and drop to plan every phase of your dream home and outdoor living space including cost estimation tools.

outdoor living space including cost estimation tools.


New Material Editor

Shutter Tool

Double Doors & Mounting Options

New 3D Cutaway Tool

Import Sketchup Models
3D CUSTOM WORKSHOP PRO
This new FloorPlan PowerTool adds over 90 professional CAD tools to FloorPlan Home & Landscape Design. Custom Workshop Pro can bring in popular CAD file formats such as SketchUp®, 3D Studio®, 3MF, STL, DAE, PLY, as well as Adobe® Illustrator®, PDF, SVG, TIFF, BMP, PNG, and JPG.
POWERFUL VISUALIZATION & RENDERING
Create even more stunning renderings with new LightWorks® options. These enhancements are ideal for creating dynamic, photorealistic Interior Designs, allowing you to more effectively communicate your design ideas to your client, or your interior designer, builder, or contractor.
360˚ ONLINE VIEWER
View or share your FloorPlan 3D Models in your web browser on any device! Simply render a room and Export it to the FloorPlan Online Viewer, to see a 360° view, including the floor and ceiling! See Demo.
.
"Everything works great. I really appreciate your commitment to customer service, working with me to resolve these issues so quickly."
Dan C.
"This user-friendly 3D home design software will have beginners drawing custom floor plans within the hour. However, it still has all the necessary tools to keep advanced users satisfied. With high quality renderings, powerful design tools and large object libraries, TurboFloorPlan Home & Landscape Pro easily earns our Top Ten Reviews Silver Award."
TopTenReviews
"Great product! I had been searching for a cad program to design the addition I wanted to build. Had taken some AutoCAD classes and knew it was a canon, while I just needed a fly swatter. It is easy to use but I still have a ways to go before I can become as proficient as I would like. I was able to produce designs and drawings that the Building Dept. accepted. I would recommend this product to anyone."
Leonard R.
System Requirements
Operating System: Microsoft Windows® - Windows 11, Windows 10, Windows 8, Windows 7, or Windows Vista
CPU Type: 1 gigahertz (GHz) or faster 32-bit (x86) or 64-bit (x64) Intel® Pentium® III, Celeron® or other compatible processor (multi-core processors supported)
Memory: 1 GB of RAM (4 GB or more recommended)
Hard Disk Space:3 GB
Video Card: VGA Video Card displaying at least 1024x768 with 32-bit color.
Video Card Memory: 64 MB. Note that a separate video card is required. Motherboard video chipsets AKA onboard video chipset AKA integrated video is not supported.
Other: DVD-ROM (if installing from disk), keyboard, and mouse. Internet access for product activation. Administrator privileges are required to properly install this program.
Buy Your FloorPlan Product Now
Find the FloorPlan 3D version that best fits your needs
Click Room Additions
Automatic & Custom Roof Tools
1000+ 3D Interior Design Furnishings & Materials
Over 4000 Plants for Landscape Design
Advanced Floor Management
Foundation & HVAC Planning Tools
Framing
Import Materials, Backgrounds &Plants
Fence Designer
Global Sun Positioning
Advanced Dimensioning Tools
Interior Decorator Palette
Click Room Additions
Automatic & Custom Roof Tools
1000+ 3D Interior Design Furnishings & Materials
Over 4000 Plants for Landscape Design
Advanced Floor Management
Foundation & HVAC Planning Tools
Framing
Import Materials, Backgrounds &Plants
-
-
-
-
FloorPlan Instant Architect
$

4999
New 2D Design Engine
NEW DWG/DXF Import/Export
Advanced Floor Management
Instant 3D Views
Over 4670+ 3D Furnishings Included
Over 7640+ Materials
Accessories / Window Treatments
Over 4000+ Plants
Library Navigation and Preview Control
Download Packs for 3D Objects, textures and more
Point Selection Highlight Guides
Multiple Monitor Support
Edit Page